Brass Metal Powder
Brass metal powder 74 µm 200 Mesh 0.074mm 64% Zn 36% Alpha brass
CAS no: 63338-02-3
Brass is an alloy of copper and zinc.
This brass have: Cu 64% + Zn 36%
Bismuth (Bi) | % | 0.002 max.
Antimony (Sb) | % | 0.005 max.
Lead (Pb) | % | 0.07 max.
Phosphorus (P) | % | 0.01 max.
Iron (Fe) | % | 0.2 max.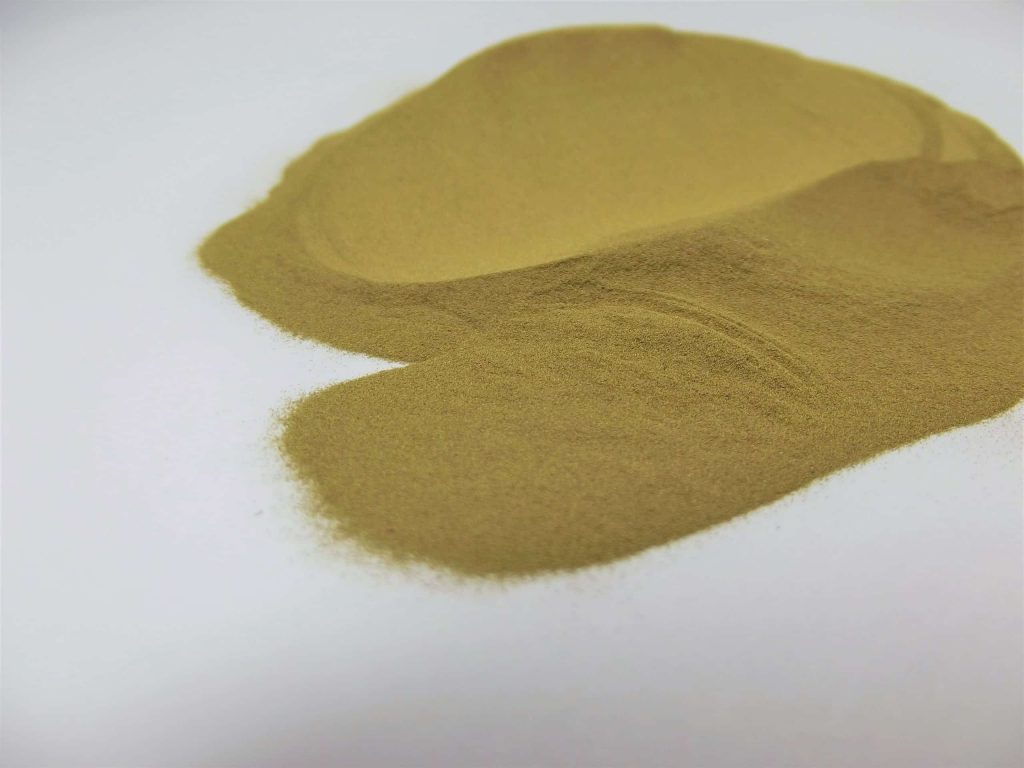 Alpha Brass:
Alpha brasses are malleable, can be worked cold, and are used in pressing, forging, or similar applications.
They contain only one phase, with face-centered cubic crystal structure.
With their high proportion of copper, these brasses have a more golden hue than others. The alpha phase is a substitution solid solution of zinc in copper. It is close in properties to copper, tough, strong, and somewhat difficult to machine.
Brass powder, brand PRV-PBZ – metal powder obtained by cutting with water. It is used in many industries (shipbuilding, radio engineering, electronic, instrumentation, jewelry, aviation and automotive).
Often brass powder is used to apply special coatings in two ways:
surfacing and by the method of thermal spraying. This coating has a number of advantages:
resistance to wear and corrosion; resistance to sea water and other negative influences environment, tolerates stress well.
Part of decorative coatings.
Also used in powder metallurgy and in making solders.
Widely used brass metal.
You can use metal in jewelry works, other art works, cold cast resin projects, use it in paint jobs.
Also you can use it to protect other metals from corrosion, make your own anti corrosion paints or even primers.
Wide range of use in industry section.
High quality and purity metal for all your ideas. Special orders are also accepting.
You can contact with all your questions and we will find a general agreement. Wide Range Metals